Publish Date: April 1, 2012
Paperback, 346 pages
Fiction, Historical, Romantic Elements
ISBN:
978-0800719814
My Review:
The Discovery
captured me from the very first page. First off you have a man who is celebrating the life of his grandfather. He misses him, he's sad he has passed, but he's okay with it. I also love that he's not money hungry and anxious about what he's getting and neither is his wife. Yes they are excited (and they should be) once the will has been read but no one in the family is obsessed with the money part. They all seemed to love the grandfather dearly. So that endeared me to this first. No arguing, bickering family members. Yes there is Michael's sister who wants to know the family history, but there is really no arguing.
After the dust settles the real story starts, and the real story is not Michael's story, but a the book that Michael finds that Gerard wrote and never published. I loved the book-in-a-book angle. And of course you as the reader know it's Gerard's real story, but that doesn't take away from the beauty of the story or the wonder of finding out just what Gerard's story was. Sharing this with Michael was amazing. I was enthralled. I must admit that I love reading about the World War II era so this was right up my alley. It just seems like things were simpler then. We had a national pride, we were behind the war and our soldiers. I know things were tough and it was a harsh war, but I love stories set on our home soil during this time frame and this one was so different from what I was use to that it was completely refreshing.
While reading, this quote from the book really stood out to me and brought me to tears. It's taken from a scene where Ben in Gerard's book is talking to a Catholic priest and he's trying to work through the secrets he carries, the priest responds with this quote which just struck me as very powerful at the time:
"Priests are just people. But the thing is, God see through it all. He sees our hearts as they are, That's why we don't have to play games with him, try to pretend we're doing okay when we're actually hurting inside. We can come in whatever condition we're in, knowing he loves us and knows exactly what we're thinking and feeling. I've been through something myself recently, where I've rediscovered just how true that is."
Wow, just wow. And don't get scared off, the book is not preachy, in fact that's probably as preachy as it gets with this beautiful quote.
The Discovery
is sweet, there is action and adventure, there is romance, and there is a love that spans a lifetime and proves love can endure anything. This book gave me hope, left me feeling happy and refreshed in the end and looking for my husband to tell him I love him. Dan Walsh has done it for me again by writing another winner that I read from beginning to end in one sitting. So come fall in love with Michael and his grandfather and make your own discovery while reading this book.
My Rating: 5.0/5.0
Available April 2012 at your favorite bookseller from Revell, a division of Baker Publishing Group.
About the Book:
Gerard Warner was not only a literary giant whose suspense novels sold in the millions, he was also a man devoted to his family, especially his wife of nearly 60 years. When he dies he leaves his Charleston estate to his grandson, Michael, an aspiring writer himself. Michael settles in to write his own first novel and discovers an unpublished manuscript his grandfather had written, something he'd kept hidden from everyone but clearly intended Michael to find. Michael begins to read an exciting tale about Nazi spies and sabotage, but something about this story is different from all of Gerard Warner's other books. It's actually a love story.

As Michael delves deeper into the story he discovers something that has the power to change not only his future but his past as well. Laced with suspense and intrigue, "The Discovery" is a richly woven novel that explores the incredible sacrifices that must be made to forge the love of a lifetime. Author Dan Walsh delivers yet another unique and heartfelt story that will stick with readers long after they turn the last page
About the Author (from Goodreads.com):
Website
Twitter
Facebook
Blog
Buy the book by clicking on any of these links (they will take you to B&N)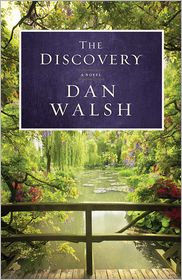 Paperback Ebook
FTC Information: I received this book from the publisher for an honest review. I do make money from purchases made at The Book Depository, Alibris and B&N.com, but all money is used to fund giveaways and shipping for giveaways from the blog.