Taking Care of Yourself First by Debra Stang
If you've ever been on an airplane, you've heard the spiel about the oxygen masks: always put your own mask on before assisting your child.
That flies right in the face of instinct, doesn't it? Most of us are hard-wired to want to help the child first.
But the simple, cold truth is that if you pass out due to lack of oxygen, there's no one left to help the child. What seems like a selfless act, helping the child first, could actually endanger both your lives.
A cabin-pressure change in an airplane is a single, catastrophic event. Caring for an elderly loved one is more like a marathon, but the analogy still fits. If you always put your loved one's needs first and your needs second, you will become depleted, burned out, and perhaps even physically ill. Who will care for your loved one then?
When you're a caregiver, it's important to take some time each day to attend to your own wants and needs. For instance, you might walk on a treadmill before your loved one wakes up in the morning, read a few chapters of a good book while your loved one is involved in something else, or take a hot, relaxing bath or shower after your loved one goes to bed.
Finding a few minutes here and there is usually not so difficult. The real challenge is finding a block of time, at least two or three hours each week, when you don't have to worry about being a caregiver. You can use this time for anything you find refreshing—taking a nap, having lunch with a friend, getting a massage, window-shopping downtown, or writing in a journal.
If you don't think you could possibly get away from your caregiving duties for that long, I have some ideas that may help.
Involve other family members. If they can't or won't help you with caregiving duties, perhaps they could chip in some money to help hire respite care.
Look into day programs at the local senior center, or look into adult daycare. Even if your loved one only attends once a week, this is a free day for you.
Arrange a trade with another caregiver. Perhaps you could cut your neighbor's hair for free or watch her son for a couple of hours after school if your neighbor agrees to stay with your loved one for a couple for a little while each morning.
Reach out to your religious community. Many churches, synagogues, and mosques have programs to help caregivers.
Call your local Area Agency on Aging and ask if they know of any respite programs.
Hire private-duty care through a reputable agency. While this option may seem expensive, it is actually cost-effective if it keeps you mentally and physically healthy enough to provide care.
Caring for an elderly loved one is no easy task, but scheduling regular hours when you focus on nurturing yourself and help you reduce your stress level and avoid burnout. Remember the airplane analogy. Always put your own oxygen mask on first.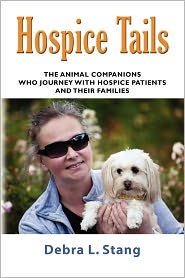 Thanks Debra for that great advice and for all you do working with Hospice.
And stay tuned, later today my review of Hospice Tails will be posting.