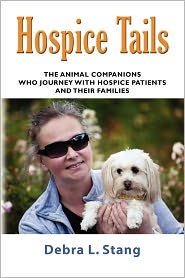 Hospice Tails by Debra Stang
Publisher: Booklocker.com, Inc.
Publish Date: May 31, 2011
Paperback, 108 pages
Non-Fiction, Anthology
ISBN:
978-1614342618
My Review:
Hospice Tails is a quick read and much lighter than one might think given the subject matter. I jumped at the chance to do this tour since I have a love of pets (especially cats) and a profound love and respect for Hospice after my Grandmother was cared for by Hospice after she broke her hip and never really recovered and then passed away almost 2 years ago. So I wanted to read these stories as told by a Hospice worker of how pets were important at the end of life to the patients and families.
I enjoyed the stories, they were quick reads and I found none of them depressing at all. Ms. Stang has a quick wit and a gift to tell the stories of how the animals were special (or not special, yet still important in one case) to each patient or family. Each story is told completely and I got to know the pet and the patient and how Ms. Stang interacted with each patient.
Two things stood out to me in this book. Pets were important in each case to the well-being of the patient and the family was the first one. And second, Ms. Stang really cares about what she does and about each patient. Not all the patients were eager for Hospice care, but through her thoroughness and drive to give them the best care possible I see that she gets to know them and does her best and this is what I see as the shining star of Hospice care. It's the fact that they really do care. I think Ms. Stang really brings this to light in this book whether she means to or not. The pets provided the humor a lot of the time and Ms. Stang provided the heart.
My Rating: 4.5/5.0
About the Book:
Hospice

Tails

shares the stories of those without voices. This books tells the stories of fourteen pets and the role they played when their loved one was ill or dying. The stories range from sad to touching to downright hysterical. There was
King, who had the

hospice

nurses very nervous. Until they realized he was a lap dog in a pit bull's body. Jasper and Jackie, Amazon parrots who put on a daily concert for their owner, even on the last day of his life. As an Alzheimer's patient's world shrunk Washington, a golden retriever, became the only "person" he recognized.
This book is ideal for animal lovers as well as those who are caretakers—either as a profession or for a loved one.
About the Author:
In addition to her parents and two sisters, Debra's family includes four cats.

The current crew includes a grouchy nine-year-old named Achilles; an orange tabby and alpha male named, appropriately enough, Alexander, and a black and white long-haired cat with attitude named Leroux. Then there's the foster cat named Pumpkin. Of course it all started with

a three-month-old brown-and-gray tabby named Calypso who had strong feeling about most people. And not warm fuzzy feelings. Calypso even had the dubious honor of being banned by not one, but two vets.
When not caring for cats or writing, Debra spent many years as a social worker. She worked with AIDS patients, emergency room patients, and those with Alzheimer's. Her final years as a social worker were spent with

hospice

patients. Although some would view that as a depressing job Debra chose to view herself as a catalyst helping people make their final hopes and dreams come true. Sometimes it was making up with a family member after a decades long feud or leaving behind the stress of the office to reconnect with another aspect of their personality.
Debra took a clue from her patients and recently decided her writing – for years a part-time career – couldn't wait any longer. Worried she would become one of those people who would one day say, "I wish I had…" she handed in her resignation and is now living her dream as a full time writer.
Website
Twitter
Facebook
Blog
FTC Information: I received through WOW (Women on Writing) tours for an honest review.
If you purchase Hospice Tails from one of the links below, My Reading Room will make a small percentage of the sale which I will use to fund future giveaways and postage for mailing giveaways.