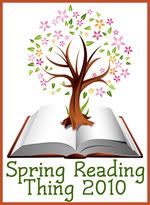 When I first started blogging last year, The Spring Reading Thing was one of the first things I joined in on. It is hosted by Katrina at
Callapidder Days
and it's really simple (and that's what I like about it). All you have to do is make a post and read and then if you can make a follow-up post in the end. It's really that simple. For more thorough information and to sign up yourself, head
here
or click the button above.
Here is a start on my tentative list. I am currently in a reading slump so I hope I can get back to reading. It's a tough time of year. We're starting our garden, our youngest is playing t-ball and my oldest has a lot going on in school. But I will make time to read. My goal will be 30 books.
I will update here as I finish books for this challenge. I look forward to see what everyone else is reading - this is always a time of year that I add tremendously to my tbr pile!
ttyl by Lauren Myracle - finished 3/29
Shadow Hills by Anastasia Hopcus - finished 3/31
Asking for Trouble by Sandra Byrd - finished 4/6
Sworn to Protect by DiAnn Mills - finished 4/8
White Cat by Holly Black - finished 4/10
A Most Improper Magick by Stephanie Burgis - finished 4/10
Double Love by Francine Pascal - finished 4/11
Forget Me Not by Vicki Hinze - finished 4/15
Too Close to Home by Lynette Eason - finished 4/17
True Blue by David Baldacci - finished 4/18
Hush by Kate White - finished 4/20
Love Will Keep Us Together by Ann Dayton and May Vanderbilt - finished 4/21
Flaherty's Crossing by Kayla McFerrin - finished 4/22
Secrets of the Playboy's Bride by Leanne Banks - finished 4/23
Caught by Harlan Coben - finished 4/25
Bleeding Violet by Dia Reeves - finished 4/30
Prada and Prejudice by Mandy Hubbard - finished 5/4
Prom by Laurie Halse Anderson - finished 5/5
Fever, 1793 by Laurie Halse Anderson - finished 5/7
When Lightning Strikes by Meg Cabot - finished 5/8
Scream by Mike Dellosso - finished 5/9
The Swan Thieves by Elizabeth Kostova - finished 5/11
Think Twice by Lisa Scottoline - finished 5/24
Infinity by Sherrilyn Kenyon - finished 5/28
Never Let You Go by Erin Healy - finished 5/30
Welcome to Harmony by Jodi Thomas - finished 5/30
The Ark by Boyd Morrison - finished 5/31
My Name is Memory by Ann Brashares - finished 6/3
Strange Neighbors by Ashlyn Chase - finished 6/5