Join Malana Ashlie, author of the travel autobiography,
Gringos in Paradise: Our Honduras Odyssey
(BookSurge, Jan '07) , as she virtually tours the blogosphere in December on her first virtual book tour with
Pump Up Your Book Promotion
!
**Thank you to the author, Malana Ashlie and Pump Up Your Book Promotions for my copy of the book to read and review.
About Gringos in Paradise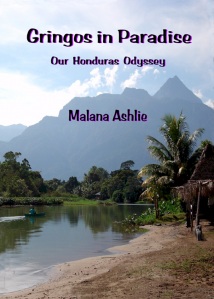 Gringos in Paradise: Our Honduras Odyssey
by Malana Ashlie is a delightfully amusing and lighthearted autobiography chronicling her move from Hawai'i to the Caribbean Coast of Honduras. When she and her husband decide to relocate to a more secluded paradise the fun begins. She shares the trials and triumphs of building a new life in Central America, in what can best be described as a spiritual journey of faith.
Of special appeal to the swelling ranks of expat retirees in Mexico and Central America (over one million strong, according to 2005 census estimates), Gringos in Paradise shares the adventures — and misadventures — two retirees face as they set off to the Caribbean coast of Honduras in search of financial freedom, personal fulfillment, and peace.
About Malana Ashlie
Malana Ashlie, Ph.D., is the author of
Gringos in Paradise: Our Honduras Odyssey
and
Pathways to Inner Peace
. A certified naturopath and holistic healer, Dr. Ashlie is also an interfaith minister and ceremony leader.
A scholar of ancient wisdom, she has been privileged to study with Mayan elders, sacred teachers of Native American traditions, and Hawaiian kupuna. She is also an adept of the Hermetic Principles. Exploring the mysteries of indigenous cultures has expanded her abilities as a Reiki Master and enhanced her awareness of other subtle energies. She travels extensively throughout the United States and Central America, lecturing, teaching, and leading retreats.
After five years in Hawaii, Malana and her husband Ordin, along with Pueo, their shamelessly spoiled cat, relocated in 2006 to the tiny beach community of El Porvenir, on Honduras's little-known Caribbean coast. There they participate in the life of the community while managing Wisdom Pathway, a business that offers the spiritual retreat /eco-tour portion of the personal discovery seminars and workshops Dr. Ashlie teaches.
For more information about the author, visit
www.wisdompathway.com
or
www.gringos-in-paradise.com
Blog
Twitter
Read an Excerpt
Parking is always a premium in town, especially this area of the busy downtown [La Ceiba] center, but if you take it slow and watch for a smile and a wave, someone will guide you to an available spot. There are always entrepreneurs willing to direct you in or out of an available space …for a tip. A couple of extra Lempiras will even get your car washed in its parking area while you shop or run errands.
Hondurans don't have laws that overprotect so an air of self-reliance develops. Since there is no public welfare the townspeople help support their own. Occasionally I will see a blind woman guided along the street median by one of her neighbors. This allows those who are wealthy enough to be driving an opportunity to share in her support. Intersections always seem to be the ideal place to open any business, whether it is newspaper sales, washing car windows or for children to sell bags of fresh fruit.
***
Malana Ashlie's GRINGOS IN PARADISE VIRTUAL BLOG TOUR '09 will officially begin on Nov. 25 and end on December 10. You can visit Malana's blog stops at
www.virtualbooktours.wordpress.com
during the month of December to find out more about this great book and talented author!