Publisher:Cedar Fort, Inc.
Publish Date: September 8, 2011
Paperback, 304 pages
Fiction, Historical Romance, Regency Romance
ISBN:
978-1599559537
Follow along with the blog tour schedule.
My Review:
I love Marian, she is such a fun character. She's not afraid of much and she says what comes to mind and it makes her a delight to read, she is definitely not a shrinking wall flower of a girl. And in addition, the entire Wynswich family is a delight as well, even the stuffier members of the family turn out to be quite fun and likable.
I haven't read Regency romance in awhile and I forgot what I was missing in the really good ones, and Marian's Christmas Wish is one of the ones that really stands out. It has wonderful characters, starting with Marian and her witty comebacks and schemes. Her brother Alistair is a trouble-maker as well and rather amusing. Percy and Ariadne are the more proper ones in the family, but they are still interesting characters in their own right. Of course, the earl, Lord Ingraham is a fascinating character as well. Not much is known about him in the beginning, but I liked him from the start from the way he interacts and helps Marian get out of tough spots. He continues to shine through the rest of the book as well.
The plot is great as well. The wonderful thing about historical romance is even though this was previously released back in 1989, it reads perfectly today. So those of us that missed this gem in 1989 get a chance to read it now and it does not seem dated in the least. There are several things going on in the plot that keep it moving and keep it interesting and of course there is the romance of Marian and Lord Ingraham front and center even though it comes about slowly through the whole book. The plot never lost my attention and I enjoyed every minute of my reading.
With witty dialog, amusing situations, great romance and just all-around good fun, Marian's Christmas Wish is a stellar book to me. Marian is a delightful character who endeared herself to me and Gil is the perfect match for her. I also loved Marian's family and just thought every part of this book was well-done and interesting to me the reader. I am thankful that it was re-released because it was a phenomenal book to get a chance to read.
My Rating: 5.0/5.0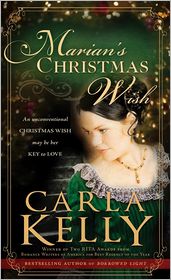 About the Book:
Miss Marian Wynswich is a rather unconventional young lady. She plays chess, reads Greek, and is as educated as any young man. And she's certain falling in love is a ridiculous endeavor and vows never to do such a thing. But everything changes when she receives a Christmas visit from someone unexpected--- a young and handsome English lord.
About the Author:
A newcomer to Cedar Fort, Inc., Carla Kelly is a veteran of the New york and international publishing world. The author of more than thirty novels and novellas for Donald I. Fine Co., Signet, and Harlequin, Carla is the recipient of two rita Awards (think oscars for romance writing) from romance Writers of America and two Spur Awards (think oscars for western fiction) from Western Writers of America.

Recently, she's been writing regency romances (think Pride and Prejudice) set in the royal Navy's Channel Fleet during the Napoleonic Wars between england and France. She comes by her love of the ocean from her childhood as a Navy brat.

Carla's history background makes her no stranger to footnote work, either. During her National Park Service days at the Fort Union Trading Post National Historic Site, Carla edited Friedrich Kurz's fur trade journal. She recently completed a short history of Fort Buford, where Sitting Bull surrendered in 1881. Following the "dumb luck" principle that has guided their lives, the Kellys recently moved to Wellington, Utah, from North Dakota and couldn't be happier in their new location. In her spare time, Carla volunteers at the railroad and Mining Museum in Helper, Utah. She likes to visit her five children, who live here and there around the United States. Her favorite place in Utah is Manti, located after a drive on the scenic byway through Huntington Canyon.

And why is she so happy these days? Carla looks forward to writing for an LDS audience now, where she feels most at home.
Carla Kelly's Website
Carla Kelly's Facebook
Purchase from B&N.com, Alibris.com or The Book Depository and help My Reading Room earn money to continue to fund giveaways.
FTC Information: I received this book from the publisher for an honest review.
I have retail links on the site that do net me a percentage profit, but all profit goes back into the blog for mailing giveaways and for hosting more of my own giveaways. So please consider buying through one of my links if you were planning on buying from B&N or The Book Depository anyway, it will help defray the costs of the giveaways so I can continue to pass on books to you.