Publisher: Guideposts
Release Date: November 2011
Trade Paperback, 312 Pages
Fiction, Historical, Christian
ISBN:
978-0824948122
My Review
First I would like to say that I really appreciate one of the underlying messages of this book. Listen to the stories of your grandparents, they won't always be around and they have some important stories to share. I am thankful that my husband asked my "Pa" about his time during WWII, things I would have never thought to ask so I did get a little glimpse into his life back then. He was one of 5 brothers and all 5 brothers went off to WWII.
Now to the review, I just wanted to mention that because this book really touched me and felt near and dear to my heart because of the subject matter. My "Pa" was in the Pacific, but it didn't matter, the stories are the same, young boys off to war.
I found Remembering You to be a very interesting story. There are several layers or plotlines to the story. First is Ava's relationship with her Grandfather Jack. In the beginning we know something has strained it and she sees this trip as something to bring them back together. Ava also sees this trip as a way to see the world and get herself back together after being jilted by her fiancee. Another layer is the ability to turn the trip into a way to help her with her flailing career. Then there is the purpose of Jack and Paul and why they must make the trip across Europe together this year. And finally, Ava and Dennis. Dennis was Ava's first love, but it ended badly and doesn't seem to be going very well at the beginning of this trip either. Ava just wants to get a grasp on one area of her life.
I often felt myself cheering for Ava. And sometimes I kind of wanted to smack her. But truthfully I felt for her. She really had been beaten down and beaten down until she really did not know which end was up. She had lost her spark and was trying to get it back on this trip, but Grandpa Jack wasn't helping and it seemed like every time things started going well with Dennis things took a huge backwards leap. But that was part of what made the story. Her continued trials, make the ending worth it.
Then the mystery of what is going on with Grandpa Jack and why he is being mysterious. I enjoyed this part but felt like it was done up and then kind of tossed aside to be picked back up later. I guess I felt this was a little choppy. But not enough to detract from my overall enjoyment of the book. I still found this a book I could not put down.
I found it easy to identify with every character in the book. I enjoyed the scenery and the situations in the book and the pages just about turn themselves. The plot sped along and except for the choppiness I mentioned this book really impressed me. I enjoyed Remembering You because it was different. It delved into remembrances and current lives simultaneously and I love how Ms. Goyer wove these stories together like she did. I highly recommend this book to anyone fascnated with the WWII era. Though it takes place in the modern era, it's worth reading just for those remembrances and the respect that is given to the soldiers all through Europe in the liberated towns. Beautifully researched and beautifully done.
My Rating: 4.25/5.0
About Tricia Goyer:
Tricia Goyer is a homeschooling mom of four (two graduated!) and an acclaimed and prolific writer, publishing hundreds of articles in national magazines. She has also written books on marriage and parenting and contributed notes to the Women of Faith Study Bible. Tricia's written numerous novels inspired by World War II veterans, including her new release Remembering You. Tricia has a weekly radio show Living Inspired and loves to share inspiring, true stories. The Goyer family live in Arkansas.
For more information please visit www.triciagoyer.com.
About Remembering You:
35-year-old Ava Andrews' dream job is interrupted by an unusual request--fulfill her 84-year-old grandfather's last wish by joining him on a battle site tour of Europe. Ava is sure her boss will refuse her request. But, instead, he gives her a directive of his own--to videotape the tour and send it back as mini-segments for the show she produces.
As if juggling these two things isn't hard enough, Ava is soon surprised again ... twice. First, Ava and Grandpa Jack arrive in Europe, only to discover the tour is cancelled. Unwilling to let down her grandfather or her boss, Ava and Grandpa Jack head out on their own. Then, while they're on their way, the pair soon meet up with Paul, her grandpa's best friend, and his grandson Dennis. The same Dennis who just happens to be Ava's first love.
Before she knows it, Ava and Dennis are swept down memory lane as they visit the sites that are discussed in the history books. And even though Ava's videotaping old soldiers, she can see their youth, their hopes and fears, and their pride in their eyes. Soon Ava learns the trip isn't just for them ... it's for her too--especially for her heart.
Watch a video about the real-life stories Remembering You is based on.
Click the cover to buy from B&N.com: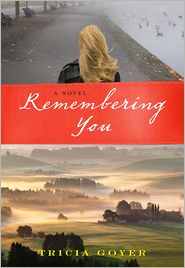 FTC Disclaimer: I received this book from Litfuse Publicity for an honest review. I was not compensated in any other way except receiving the book for free.
I do receive commission for purchases made through my B&N and The Book Despository Links included in my posts, but this money goes towards funding giveaways and shipping for the giveaways I run. :)