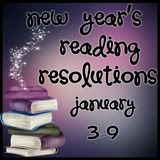 It's time for another giveaway hop. This one is hosted by Candace at
Candace's Book Blog
. What can be more fun. This one runs from 12:01am January 3 - 11:59pm January 9. Plenty of time to get to all 100+ blogs participating. I know I plan on hopping. I will announce winners (I promise) by January 12th. I'm actually keeping things simple this time.
The giveaway is a choice of 3 books from the list below (plus more that will be added) and this giveaway is open to US/Canada only.
So simply fill out the form. You don't have to be a follower, but I would love for you to be one if you like the blog. I also love Goodreads friends, twitter followers and the like, see my sidebar.
Good luck everyone and Happy New Years!
List of books (and I'll be adding more over the giveaway time)
Christmas at Harrington's by Melody Carlson
Casting About by Terri DuLong (ARC)
Last to Die by Kate Brady (ARC)
Running from the Devil by Jamie Freveletti
Lydia's Charm by Wanda Brunstetter
The Radley's by Matt Haig
Presumed Innocent by Scott Turow (audiobook on cd, unabridged)
and more to come when I get a chance to go through my pile more . . .
Fill out the form here.