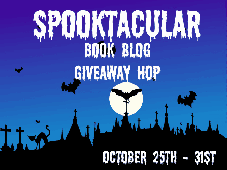 Welcome to the
Spooktacular Book Blog Giveaway Hop
- I love participating in these - I always find new blogs and usually get new readers. I'm going to keep this simple. Fill out the Form, choose the books you would like to win and you are entered, no extra entries this time, but if you get a chance do tweet or let others know about all the great giveaways. Check the linky at the bottom and visit other wonderful blogs and enter to win great books, swag and more!
First, these are open to US/Canada only, I'm low on funds at the moment. Sorry international - next hop I'll try and do international. Giveaway is open 12:01am 10/25 - 11:59pm 10/31. So what am I giving away?
First a deliciously spooky book that is perfect for a cold night alone and though it is YA, don't let that put you off - this will thrill adults as well.
Solitary by Travis Thrasher
ARC of Matched by Ally Condie (doesn't have this cool cover, sorry, but it's not out until the end of November so it's your chance to read this awesome book early)
Don't Look Back by Lynette Eason
Poisoned Kisses by Stephanie Draven
Dark Road to Darjeeling by Deanna Raybourn (ARC)
What Alice Knew by Paula Marantz Cohen (ARC)
Hot House Flower by Margo Berwin
That's it - a selection of 7 books.
If you are having trouble viewing the form, a link to it is here.