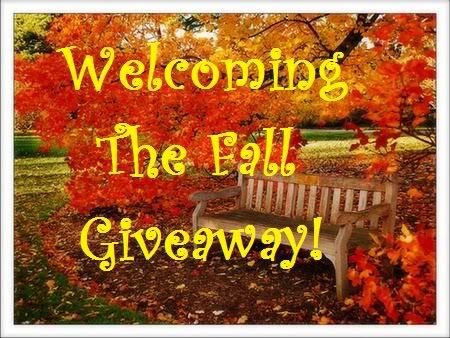 Welcome to my Welcoming the Fall Giveaway! Fall is my absolute favorite time of the year so when Good Choice Reading decided to offer up a special giveaway to celebrate the fall, I wanted to participate. Besides I really need to clear out some books from my house. Make sure to check out the other blogs participating that are listed at the end of this post. Lots of great giveaways going on. I know I will be hopping my way through right along with you.
Now onto my specifics. I have five giveaways up, something for everyone, see below. The rules are simple, US and Canada only (money shortage, sorry international), fill out the form. You can enter 1, 2, 3, 4 or all 5 of the giveaways. You do not have to be a follower, but there are extra entries for followers. Your email address will only be used to contact you if you are the winner, it will be disposed of after this contest. Simply fill out the form below. I love comments so give some comment love if you want. Tell me what your favorite thing about fall is. Ends 9/29.
Thanks for visiting and entering! Make sure you visit all the other blogs involved listed below the form as well.
David Baldacci/Audiobook Lovers - both of these are unabridged audiobooks, listened to once and in good shape:
Historical Romance - brand new, never been read
Paranormal Romance - brand new, never read
General Fiction - My Name is Memory is an ARC, The Swan Thieves is an unabridged audiobook on CD
Young Adult - read lightly, both are ARCs