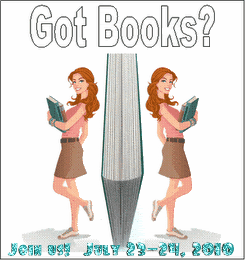 It's time for the first ever Got Books? Event. Hosted over at the Got Books Blog, Got Books? is the work of GMR of
Satisfaction for Insatiable Readers
and The1stdaughter of
There's A Book
. I decided to join in this weekend and I'm so excited to be a part of this. The main gist is to show off book blogs and to offer giveaways. What better event is there?
So what do I offer to this event?
Well first - if this is your first time visiting, please look around, I review all types of books, romance, suspense/thriller, literary, non-fiction, young adult, paranormal and any combination of those types. I try to post most days during the week, involve myself in a few memes and post a lot of reviews and some giveaways as well. I love to read and a normal reading month has me reading 15-20 books. I also love my local library and I love that I found blogging almost a year and a half ago. I never imagined sticking with it this long, but it's a part of my life now and I enjoy it.
Second is the giveaway(s):
Do you like Christian Suspense/Thrillers, Romantic Suspense, or pure suspense, well you have come to right place. I have three giveaways you can choose from.
Christian Suspense/Thriller:
Romantic Suspense:
Suspense:
So which prize pack would you choose? Use the following form to enter. You can enter 1, 2 or all of them. Only In the Name of Honor is an ARC and the rest are the published versions.
The giveaway ends 7/24 at 11:59pm and I'll draw winners early next week. Open to US/Canada only. The packages will not go out until the following Monday as next week is going to be crazy. So be just a little patient with me and you will get your books with plenty of summer reading time left!
Following is not a must, but appreciated, tweeting would be nice, help get the word out about the Got Books? event, but no extra entries this go round, just trying to keep things simple.
Thanks!