Publisher: Crown Publishing Group
Publish Date: July 12, 2011
Hardcover, 368 pages
Fiction, Historical
ISBN:
978-0307717696
My Review:
I found
The Way
to be an entertaining and fascinating book. From the first page until the last Ms. Wolf held me enthralled by her story.
In this review I won't debate the religious aspect. I will keep this strictly to a review of The Way as a work of fiction. And to that point I think this book is well-done. Ms. Wolf has created a fascinating character in Anna and an interesting depiction of a world we are only told stories about. I felt myself being easily sucked back to this timeframe and felt like I was right there among the people, the shepherds and the women of The Way. With each group I felt a part of them, got to know them and felt close to them. And through each group I got to know Anna/Jesus a little more. Ms. Wolf did a good job with developing her characters. Anna and her changing self was interesting to watch since she did not have a female around to guide her. And then through the years as she became more confident in herself and the life she chose she was a true force to be seen. But I liked that the author always came back to making her human.
The plot kept moving int he book as well and kept me interesting. Spanning a period of over 20 years, it was fascinating. I also loved that it moved around, helped me to meet new people and discover new areas just as Jesus would have. I could guess where the plot was going, but that wasn't a big deal since the overall story is known, it was just placing the new players in place. It didn't take anything away from the story to figure this out. In fact it made me look forward to things more to see if I was right. I think Ms. Wolf did a remarkable job pacing the plot. There were a few places I thought it jumped a little bit too much, but it wasn't too big of a deal and I was enjoying the book so much that it didn't detract from my overall enjoyment.
The Way is a very well written work of fiction. I feel this is one of those books that if it really gets picked up it will be discussed like The Da Vinci Code. There can be a lot to discuss in it. I even read it over Easter weekend which made it more interesting to me as I reflected over the resurrection story. I still hold fast to my Christian beliefs but did very much enjoy the reading of The Way. Ms. Wolf isn't trying to sell you an agenda, she's giving you a beautiful what-if story and the beauty is in her telling of the story. I look forward to more books from her in the future and hope she continues to take on controversial subjects and give them an interesting life. The Way is thoughtful, beautiful and a wonderful read for anyone who enjoys historical fiction.
My Rating: 4.5/5.0
About the Book:
What if one of the world's greatest spiritual healers was not who we thought he was?
Anna is a fiery tomboy living in ancient Palestine whose androgynous appearance provokes ridicule from the people around her and doubt within her own heart. When tragedy strikes her family, and Anna's father -- disguising her as a boy -- sells her to a band of shepherds, she is captured by a mystical and secret society of women hiding in the desert. At first Anna is tempted to escape, but she soon finds that the sisterhood's teachings and healing abilities, wrapped in an ancient philosophy they call "The
Way
," have unleashed an unexpected power within her.
When danger befalls the caves in which the sisters have made their home, Anna embarks on a hazardous mission to preserve the wisdom of her mentors by proclaiming it among ordinary people. Her daring quest and newfound destiny reveal, at last, the full truth of her identity -- a shocking revelation that will spark as much controversy as it does celebration.
Anna's story is one of transformation, betrayal, love, loss, deception, and above all, redemption. Readers will cheer for this unforgettable protagonist -- and for debut novelist
Kristen
Wolf
, whose beautifully written book both provokes and inspires. A compelling mix of history, myth, and fantasy,
The
Way
is a fascinating exploration of the foundations and possibilities of human spirituality.
Buy the Book from B&N: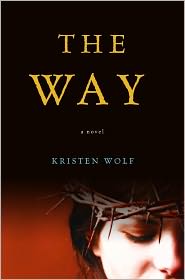 Book Ebook

About the Author (from Goodreads.com):

Kristen

Wolf

,

author of

The

Way

, is a mother, writer, and filmmaker living in the Rocky Mountains. She is a Phi Beta Kappa graduate of Georgetwon University and holds an M.A. in creative writing from Hollins University. This is her first novel.

For more information please visit

http://www.kristenwolf.com

, and follow the author on

Facebook

and

Twitter

The Giveaway

Win a copy of The Way by Kristen Wolf from the publicist at FSB Associates. Open to the US/Canada, simply fill out the Rafflecopter below. Free entry, all other entries are optional.

a Rafflecopter giveaway




FTC Information: I received this book from the author for an honest review. I do make money from purchases made at The Book Depository and B&N.com, but all money is used to fund giveaways and shipping for giveaways from the blog.